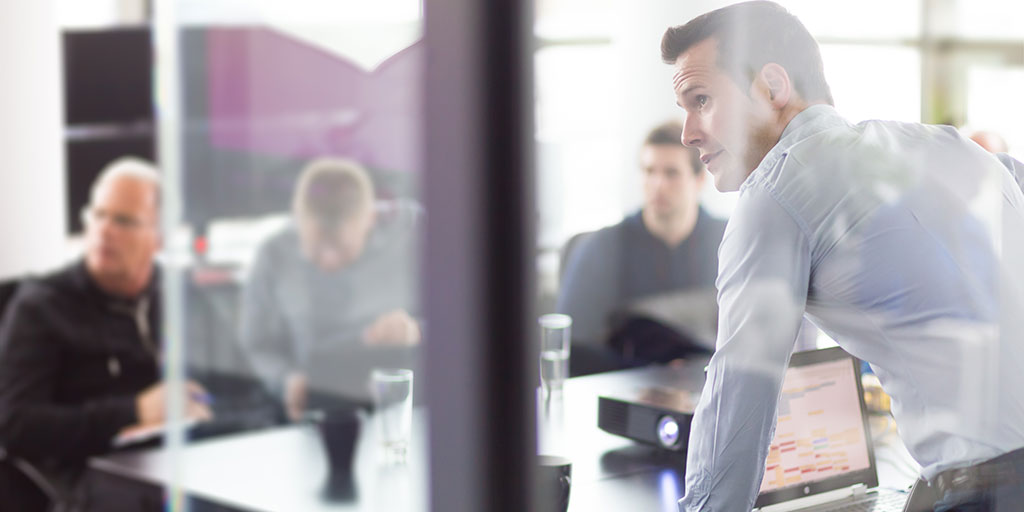 Why every CEO needs a "Content Consigliere"
Portions of this article first appeared in CEOWorld
It's a simple, but often ignored, truth: thought leaders are in a better position to win new business. In fact, an Edelman/LinkedIn survey reports that 41% of CEOs put companies on their RFP short lists precisely because of thought leadership (TL) content they've seen. Conversely, many CEOs report taking companies out of their consideration set because of low-quality content.
So how is an already over-booked CEO supposed to find the time to create compelling TL content?  For starters, you could consider some of the practical tips Andy Crestodina offers in one of my earlier Lead the Conversation interviews (the same one in which he takes content-averse CEOs to task for courting irrelevance and being anti-growth).  You could get really ambitious and follow the multi-faceted example of conversation leadership found in Beth Comstock of GE fame.  Or you could look into why many organizations and their CEOs are including a relatively new position within their executive circle, Head of Thought Leadership — the person I like to think of as the CEO's "Content Consigliere."
To explore this still relatively new force on the thought leadership scene, and how the C-Suite can leverage it, I reached out to three individuals who each function as the Head of Thought Leadership for their organizations:
Richard Fouts of leading digital transformation agency SapientRazorfish
Rob Levitt of ITSMA, the organization that helps IT companies optimize their marketing
Amber Naslund of the powerhouse social media management platform Hootsuite
Here's what they had to say about four key questions.
How crucial is a CEO in a company's thought leadership?
Our experts generally agree —top leadership must be involved, as visionaries, funders, cheerleaders and visible authorities.
Rob Leavitt, ITSMA
Great thought leadership always starts at the top. Companies that drive growth with thought leadership need to build it into the culture; it's hard to do this without active CEO commitment and support. This doesn't mean CEOs drafting white papers and blog posts, but it does mean investing in thought leadership development, incenting and rewarding subject matter experts, and serving as a "chief educational officer" to clients, prospects, media, and other influencers in the market."
Amber Naslund, Hootsuite
The CEO is critical for setting the tone both internally and externally for culture and a "point of view" in the market, which to me is what thought leadership is about. Having a distinctive vantage point about trends impacting the space or market, potential risks or challenges, and what best practices are both established and emerging is important for CEOs in order to help their brand and company stand out.
The CEO is critical for setting the tone both internally and externally.          — Amber Naslund
Richard Fouts, SapientRazorfish
Every thought leadership program starts with a strategy that serves as an umbrella for the organization's comprehensive point of view about the major trend(s) impacting its customers. Forrester's Laura Ramos, for example, says every TL program starts with "the big idea." This comes from the CEO and the executive team, with input from communications and the head of thought leadership (assuming the latter role exists). Some CEOs also use thought leadership to advance their own societal cause, as we've seen with CEOs such as Marc Benioff, of Salesforce, and his advocacy for children's health and well-being.
At SapientRazorfish, our thought leadership theme is transforming business for a connected economy. Other examples include IBM's smarter planet, Deloitte's fourth industrial revolution, Gartner's digital business ecosystems or Accenture's Industry X.0.
What type of content should the top brass create?
In a word: quality. Make that three words: the highest quality.
Amber Naslund, Hootsuite
That depends heavily on the audience. In general, my experience is that execs actually prefer meatier, text-based content that they can sit down and read (vs quick "tips" or videos that don't give them the substance they want). It should emulate the kind of media they consume elsewhere, like HBR or some of the major news publications. In addition, creating value through that content is key. Content that serves as thinly-veiled marketing material won't cut it for the C-Suite. Things like well-researched best practices, case studies, and third-party validated and primary research work well for an executive audience.
Richard Fouts, SapientRazorfish
The best content for B2B CEOs focuses on peer insight and advice (i.e., other CEOs and their boards of directors). B2B CEOs should demonstrate a clear grasp of the big issues that keep their client CEOs up at night when they are pondering their strategic business options for navigating the future.
The operative word here is future. Many CEOs focus on the "here and now" using their pulpit to amplify current best practices.  A best practice piece has value, but it is rarely thought leading. When you observe what's already happened, or what is happening right now, you're reporting (which isn't thought leading).
Best practice pieces put you in the noise. Provocative opinions about the future help put you above the noise.
The only time a best practice piece has a chance to put you above the noise is when it recommends something contrary or innovative.  Tesla's best practice, for example, is to spend zero dollars on advertising — in an industry that devotes billions to promotion. Mark Parker of NIKE is brilliant in communicating how athletic apparel, through connectivity, acts as a gateway to coaching athletes (and you do not have to be a NIKE customer to leverage NIKE's athletic advice).
Many consumer CEOs have been particularly bold in using their pulpit to address big societal issues. Tim Cook, for example, puts a spotlight on countries that brutally imprison or execute people like him [Mr. Cook is gay]. Coca Cola's Muhtar Kent uses his CEO pulpit to talk about sustainability and combating climate change. As noted above, Marc Benioff is passionate about the opportunity for every child to have access to health care, particularly those that find themselves hospitalized.
The primary goal with executives should be content for conversation.        — Rob Leavitt
Rob Leavitt, ITSMA
Best types of TL content for top execs? There's no magic formula for content that hits home in the C-Suite. It's easy to say that short-form is best for incredibly busy executives — but we know from ITSMA research that executives will read, listen, and view content in any format if it's directly relevant, credible, useful, and timely. So focus and quality are the top concerns with content for executives, not format. That being said, the primary goal with executives should be content for conversation — content that sparks questions and personal connection, not content that seeks to provide all the answers in one quick read or view. The best thought leadership for executives happens informally, in person or on the phone, with content being the starting point for a deeper discussion.
How can time-challenged C-Suiters create content?
In short? With support.
Richard Fouts, SapientRazorfish
There are many options.  Busy C-Suiters, who are also good writers, make time to write about topics they are passionate about.  But they can also have their communications team interview them, then write a thought leadership piece on their behalf. Many CEOs set up their own personal editorial calendar, then have their communications team execute it using the interview technique.
If a CEO is a good communicator with provocative insight, they might be lucky enough to land a monthly column in a leading trade publication. Broadcast organizations, such as Bloomberg, are always looking for CEOs to come on and talk about the future.
Many CEOs use their PR firm to do this, or they simply hire a qualified freelance writer who is also a good interviewer to help them amplify their thought leadership in the media, both mainstream and social.  LinkedIn is a great platform for communicating thought leadership.
CEOs can also ally with one of their partners to create thought leadership.  CEOs can also use speeches to communicate thought leadership, but earnings calls are also a great platform for communicating thought leadership. Once created, social media offers a great distribution platform for TL content. As Hootsuite CEO Ryan Holmes reminds us, social media is where thought leadership needs to start — for CEOs especially.
When creating content, the CEO's passion has to be authentic.                    — Richard Fouts
When creating content, the CEO's passion has to be authentic. Otherwise, it will come off as opportunistic or promotional. IBM's Ginny Rometty for example, is passionate about emerging technologies. She is particularly well-versed in how artificial intelligence will change the way organizations compete. And, contrary to other executives, she rejects the term "AI."  Moreover, I have heard her talk about AI technologies without referring to IBM Watson at all. That's pretty darn smart.
Amber Naslund, Hootsuite
Execs have varying degrees of capacity and aptitude to create content, and it doesn't necessarily need to be something they do on their own. If they have strong content teams, those people can help generate content ideas, do some core writing and content development, and the executive can add their personal touch or POV to make sure it's in their voice and resonates with how they see the world.
And even as much as I love longer form content on business-focused sites like LinkedIn and even Medium, I still think it's key for the exec-created content to be owned by the brand and not another platform, which means at the very least publishing it originally on an owned property (blog or website) and then syndicating it to other channels. Progressive execs are also embracing things like quick Facebook Live posts (LinkedIn now has a similar capability) that make it easy to create spontaneous content, and it's super easy and efficient to do.
Rob Leavitt, ITSMA
Creating great thought leadership is typically a team endeavor. C-Suite executives contribute ideas, insight, and experience, while marketing professionals conduct supporting research, sharpen messages and stories, and package ideas into compelling formats. You don't want to hand off the R&D part of thought leadership to outside writers or videographers, but you also don't want your top executives spending precious time on writing, editing, and production.
So, do CEOs really need a Content Consigliere?
Every organization, and each CEO, is different, of course. But in an era where, to reference Andy Crestodina again, creating executive content "is not optional," the wise CEO, even the one who's good with words, will do well to follow this advice, from Richard Fouts, who advises some of the world's best corporations:
"Every CEO should have a communications executive who is responsible for getting the word out regarding the organization's point of view on trends occurring in his or her sector, or in the world at large. Many communications executives, already tasked with a substantial job, hire heads of thought leadership to help amplify the organization's deep thinkers when it comes to future trends and market dynamics impacting the business landscape.
Whether the thought leadership role is performed by a communications executive or a head of thought leadership, it's important for every organization to amplify its thinking, not just about today's trends, but its POV about the future — with recommendations to customers and prospects about how they can prepare for it.
For more on how to help your C-Suite become efficient, effective thought leaders, read:
Do you want to be relevant? The imperative of executive content creation.
How interviews turn thought capital into currency.
________________________________________________
About the Author
Chuck Kent, the Chief Conversation Officer at Lead the Conversation, is a writer, brand strategist, content creator and expert interviewer. He is also a Contributing Editor for Branding Magazine, where he created and moderates the monthly Branding Roundtable (which keeps him in constant conversation with business leaders from around the world).
Lead the Conversation is an executive content creation service that makes it easier for busy top management to develop authentic, compelling thought leadership content, such as videos, bylined articles and blog posts. We also create opportunities for conversation leadership, such as interview series and other forums.
Lead the Conversation provides a practical way to develop authentic thought leadership content for busy executives. We also help the C-Suite create and lead industry conversations, to which they can invite other leaders, turning prospects into relationships.
© Creative on Call, Inc.
We help top executives create:
Interview series
Videos
Bylined articles
Blog posts
All forms of content