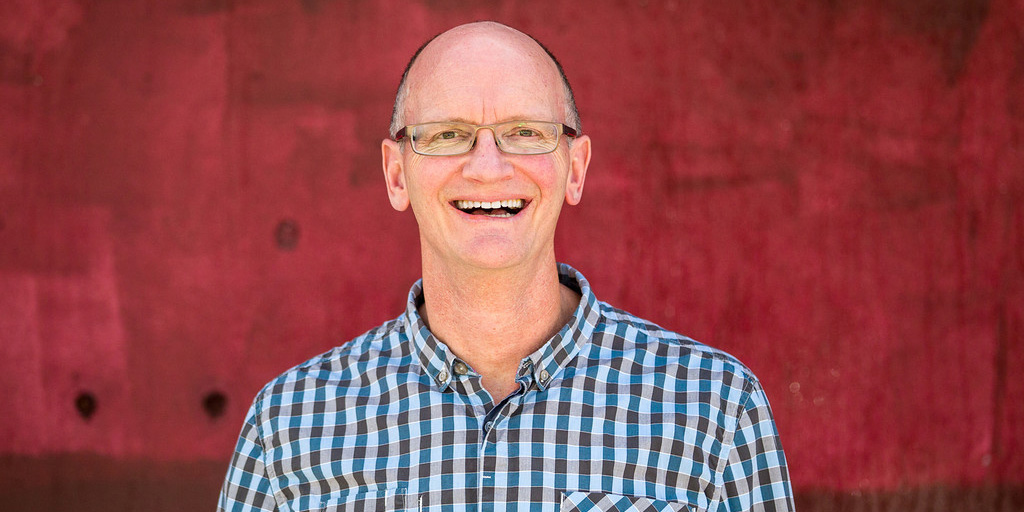 Action as thought leadership [a conversation with Russ Stoddard]
Many pursue thought leadership because they want to be something. A business leader. A connector. A successful speaker. An industry guru. Russ practices thought leadership because he wants to do something – namely, change the world (thought leaders should never think small).
I asked Russ – CEO of the social impact agency Oliver Russell, author of Rise Up, and serious cross-pollinator of people, ideas and flowers – to chat with me recently about how he uses action – the essence of doing – as thought leadership.  It was a humbling discussion for the less action-oriented, but hardly boring. To wit…
Chuck Kent: In your book, Rise Up: How to Build a Socially Conscious Business, you say that in the beginning,  "I shaped four core values for my fledgling business: to be creative, collaborative, progressive, and socially responsible."  As I've followed you over the years, you've promoted these values and your agency through a variety typical thought leadership initiatives – books, blogs, speaking, etcetera – and some distinctly less conventional, creative actions to promote both your values and your agency. I'd like to talk to you about how it's all played out in each of those values, if I might.
Your social impact labs seems, for instance, like a creative way to get people to see the world a little differently. Would you speak to the genesis of the labs? And why a Plastic Works Lab?
I shaped four core values for my fledgling business: to be creative, collaborative, progressive, and socially responsible.
Russ Stoddard: Why the Plastic Works Lab? Well, great question. Well, I generally view talk as cheap when it comes down to it. Everybody's got a mouth. Everybody's got a platform –  but talk is  differentiated, and leadership exhibited, by taking action in the world. So, in the case of the Plastic Works Lab, we decided that we've got a body of knowledge around social enterprise and benefit corporations. And we're open and willing to consult on that. But we wanted it to be more than just theoretical. We wanted it to be demonstrated through real-life practice.
So, we created a little lab to demonstrate and educate our community on the possibilities for upcycling plastics from the waste stream here in the community, so that we didn't necessarily need to landfill [plastic items]. We also didn't need to find them in the streets and in the rivers, in the oceans. And we didn't need to ship them thousands of miles away for some sort of reprocessing.
What we did is quickly got a shipping container, and got some online plans for fabrication machinery, which we had built here in Boise. Then we started figuring out, OK, how do we take,  for instance, Chobani single serve yogurt cups and turn them into a product that we can actually sell here in the community? It was  all about demonstrating something rather than just talking about it.
Talk is differentiated, and leadership exhibited, by taking action.
Chuck: But just so everybody is clear here…you run a branding agency, right?
Russ: Totally.
Chuck: What other branding agencies did you get this idea from?
Russ: No other branding agency. No other advertising agencies. No other marketing firms.
Chuck: So, may I assume, then, that creativity, to you, is found somewhat outside of your computers?
Russ: Absolutely. It all stems from having a purpose here of creating social impact and environmental impact. All the creativity that we put to work on behalf of our clients and behalf of our agency and behalf of our community is in service of that.
Chuck: Well, let's talk about that second value you laid out there, collaborative. For a long time, and I'm not sure you're still running it, you had a blog post feature, The Changemakers, where you would interview people that fit that description. Now to me a conversation is always inherently collaborative, but what did you see as the purpose and utility of that series?
Russ: Oh, geez…first of all, it was a little bit self-serving. It allowed me to create relationships with some really amazing people around the world. I'm a relationship guy, I'm a connector. So, first and foremost, I think it was just like, "Wow, I've got the possibility to meet some people through this exercise."
Beyond that, there are so many interesting people out there who are intentionally working to create social and environmental impact through their business models. I would love to hold them up, shine a light on them and amplify what they're doing so that others can find out about them – not only find out about them, but be inspired by their efforts and perhaps lead them on the path of becoming social entrepreneurs as well. In the process of that I was able to meet a lot of people…women of color, disability rights champions, people who live in rural Montana…all working in social enterprises, trying to use business to change the world.
It was a little bit self-serving. It allowed me to create relationships.
Chuck: So, you're talking about building relationships that way. Did those relationships build business for you, too?
Russ: I believe they did. I can think of a couple of instances – never with any of the people that I interviewed –  that actually led to creating relationships that turned into business for our company.
Chuck, I'm a universe guy. I believe that you put it out there, you do these things, and it will end up rewarding you at some point. There's not necessarily a direct line between creating a relationship and getting business.
I'm a universe guy…put it out there and it will end up rewarding you at some point.
Chuck: Well, I always like to say that classic thought leadership is marketing and what you're practicing, conversation leadership, is new business development, because it develops relationships. So, I applaud you for that one.
Let's talk about that third value, of being progressive.  It's a tough word to get a handle on these days. But you define progressive as moving forward by embracing change. So, is the book,  Rise Up… is that part of this getting people to move forward? I mean, you're a pretty outgoing guy. I was wondering if this is sort of like embracing change as in embracing people with a hug, almost, to bring them into the fold.
Russ: Yeah. I guess it is. The reason I wrote it, quite frankly, was to get a couple of very sharp and loving women off my back who were saying, "Hey, you have lived this life as a social entrepreneur for so long. You are a writer. Write a book." They finally gave me enough grief that I thought, "OK, OK. I will write the book."
It's not unlike the change maker interviews or the plastic works, or what have you. It's meant to demonstrate that you can create a business like this – to share the learnings that I've learned, both the numerous mistakes I've made along the way, and the successes as well, and give people a template or some steps for how they might follow on the same path. To create change in the world through a business that has true meaning and leaves them, at the end of the day, more filled up than empty.
Chuck: So, it was as much about, if I understand correctly, getting other people to take action as anything else.
Russ: Without a doubt. That's the number one objective of the book. It wasn't to put my face out into the world. It wasn't to get new business for Oliver Russell. Both of those could be byproducts in some regard, but first and foremost… when somebody from Singapore sends you an email and tells you that you have changed the trajectory of their career because they've read your book, and you realize that there will be good that comes of it – boy, that's as big of a reward as you could ever hope to find.
Chuck: You downplay it a little bit, but as I follow you on social, you seem to have created a pretty good global footprint of awareness for yourself and your agency this way. Is that fair?
Russ: Dude, it's kind of crazy…from Malta to Mexico to Guatemala to Germany and what have you. I actually have a business partner in Munich, Germany who came to me through reading the book. And he and I have just published a couple of pieces on LinkedIn about the pandemic and how it creates the opportunity for the world to address climate change by creating a circular economy. It's really been amazing to see the response, and most of that comes internationally as opposed to domestically.
Chuck: Cool. Well, you've got that fourth value. You're in the business of, as it says on your homepage, helping brands create social impact, And so social responsibility is one of your key values, reflected in the fact that you've been a B Corp for some time, I believe.
Russ: We have. We've been a B Corp since late 2011.
Chuck: I'm going to trust that people either understand what that is by this point or will go look it up. But I'm just curious…it's a corporate structure within which you have certain responsibilities. But do you see its benefits mostly in that corporate structure and how it commits you to work? Or is it equally valuable as a platform to speak to your values?
Russ: I think it's both of those. On the former, it's its own sort of self-imposed deadline that you actually have to live up to. There's nothing like the rigor and discipline of a deadline to make you do something.
As a Public Benefit Corporation, you have to demonstrate the public impact that you are creating. You need to publish an annual report detailing that to the world each and every year. And if you don't do that, you put your business model at risk. So it does hold you accountable in those ways, for sure.
Above and beyond that, on the foundational platform aspect, it really does give you a model that helps you if you want to become a social enterprise, truly become more holistic in your approach to a business and really actualize that as far as becoming a far better business person and a far better social entrepreneur. A lot of the practices that are steeped in becoming a Certified B Corp do benefit your business, especially for the long term.  I can think of any number of issues right now that fall into that category – for instance, in the realm of climate change and the environmental practices that you need to adapt.
A lot of the practices that are steeped in becoming a Certified B Corp do benefit your business, especially for the long term.
I think all businesses are moving that direction, and will have to. But as a B Corp, we're already ahead of that game, including diversity and inclusion and anti-racism. We're already practicing that. We're already making changes in the community. That benefits everything from the morale of the people who work here to our ability to get talent to come join us.
Chuck: I have my doubts as to whether or not the whole world is really trending that way. There was an interesting report from Carol Cone and the Association of National Advertisers about B2B brand purpose. It said that 84% of B2B companies have a stated purpose, but only 24% of them feel they're acting it out, that it's really embedded as part of their culture and company.
Russ: I hear you.
Chuck: So, I think we've got a ways to go.
Russ: We have an awful long ways to go. As individuals, we're all a work in progress. We have to focus the progress part of that equation.
And as far as companies go, that just means that they're out of alignment and out of sync. I think that increasing pressure from workers [is going to be a huge factor in getting things into] alignment. Pressure from consumers and spending will help, too. And, ultimately, I think that investors will see these as best practices and they will start dropping the financial hammer on the companies they own to actually start adopting a higher social purpose.
Chuck: One last question before I let you go. What advice that you would give to another agency CEO  who hasn't yet embarked on action as thought leadership?
Get out of your advertising hat. And stop talking – start showing.
Russ: I'd say get out of your advertising hat. And stop talking – start showing. Figure out ways to make substantive change.
I see so many agencies out there embracing the Black Lives Matter mantra…but instead of making a post on LinkedIn, Twitter, or what have you, what you need to do is embrace real change. Why don't you start embracing in diversity and inclusiveness initiatives, social justice organizations that are run by blacks, invest in actual black businesses? Then work to make a change. Work to elect some people of color in your home districts. Actually do something rather than just say something.
Chuck: Shut up and do something already.
Russ: Yeah, and you know what? You'll feel good. And so here's the bottom line that might also work for agency leaders – your clients and prospective clients will respond to this, and your employees will applaud you.
Suggestions for further reading:  
Brand purpose and promise in a time of plague
________________________________________________
About the Author Chuck Kent, the Chief Conversation Officer at Lead the Conversation,  uses a video-first content creation method to help busy executives more easily create authentic, compelling thought leadership content – and to lead industry conversations. He is a writer, brand strategist, content creator and expert interviewer. Chuck is also a contributor to CEO World, Sustainable Brands, Convince and Convert and Branding Magazine, for which he created the monthly Branding Roundtable.
Lead the Conversation is an executive content creation service that makes it easier for busy top management to develop authentic, compelling thought leadership content, such as videos, bylined articles and blog posts. We also create opportunities for conversation leadership, such as interview series and other forums.
Lead the Conversation provides a practical way to develop authentic thought leadership content for busy executives. We also help the C-Suite create and lead industry conversations, to which they can invite other leaders, turning prospects into relationships. © Creative on Call, Inc.
We help top executives create: Interview series Videos Bylined articles Blog posts All forms of content