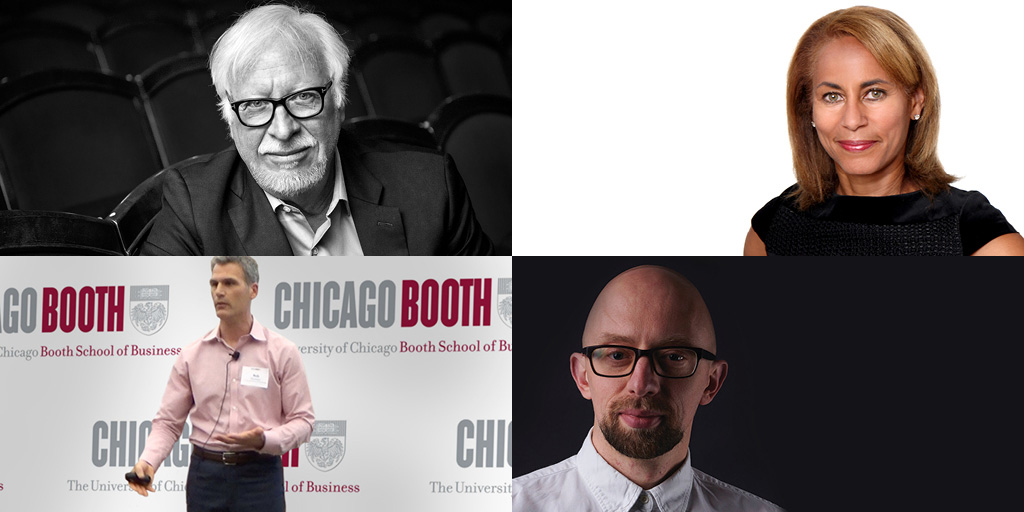 Brands, purpose and profit in a time of plague
Allow me, if you will, to diverge from my usual focus on how to create conversation leadership so that we might have a conversation with four thought leaders in the branding space.
This conversation started about two months into the COVID-19 pandemic, in my LinkedIn feed, when I noticed the following quote promoting an interview with a noted brand expert, Marty Neumeier: "The beautiful thing about branding, when you do it well, is that it gets more people to buy more stuff for more years at a higher price."
I wasn't, frankly, so sure that he was describing something truly beautiful, particularly given the state of the world, and some newly noted corporate failures to live up to claims of purpose. So, I convened a virtual roundtable of branding experts to discuss how purpose and profit relate in practice, especially during this time of potentially extended plague. (Please note: This discussion took place shortly before the worldwide protest sparked by George Floyd's murder, and so does not reflect its far-reaching impact).
Take just a few minutes to hear from:
Marty Neumeier, Director of CEO Branding at Liquid Agency in Silicon Valley
Paul Bailey, Strategy Director at the UK agency Halo (and the interviewer who elicited Marty's quote above)
Diane Primo, CEO of Purpose Brand Agency in Chicago
Bob Domenz, CEO of Avenue, the Chicago-based, B2B-focused firm
Chuck:
I have a question first for Marty. You're quoted as saying, "The beautiful thing about branding, when you do it well, is that it gets more people to buy more stuff for more years at a higher price." Now, that's a well-established reason-for-being for branding in Milton Friedman's type of economy that prioritizes serving the shareholder above all. But how do we get past the sense that while brands love to preach purpose they still, above all else, seem to live profits?
Marty:
Where do I start? I don't think that Milton Friedman's full statement suggests that companies are only serving shareholders. I think that's a lens you're viewing it through.
Chuck:
I use that lens because, while it may not be the most accurate to Milton, I think that's the way that the business world has chosen to take it.
Marty:
It has…I think that's a problem we've had since the beginning – that people who run companies, if they don't understand branding, they see it as a value-added activity, something you stick on later as a surface to something. They don't see it as a day-one issue.
I use that with CEOs because I want to let them know that this is integral to making a profit. If you want to stay in business, you have to make a profit. Yes, a lot of companies live for profit – I would say less than before – but that's the shareholder view of business. "Make a lot of money for me and I don't care how you do it." But companies that last don't have that point of view. They definitely have a purpose. They're there for the long-term and they do have an interest in some purpose beyond profit.
But even though companies shouldn't live for profit, they need to live by profit. They're not going to be in business unless they can sustain profitability. That's a really important message for brand people to convey to CEOs.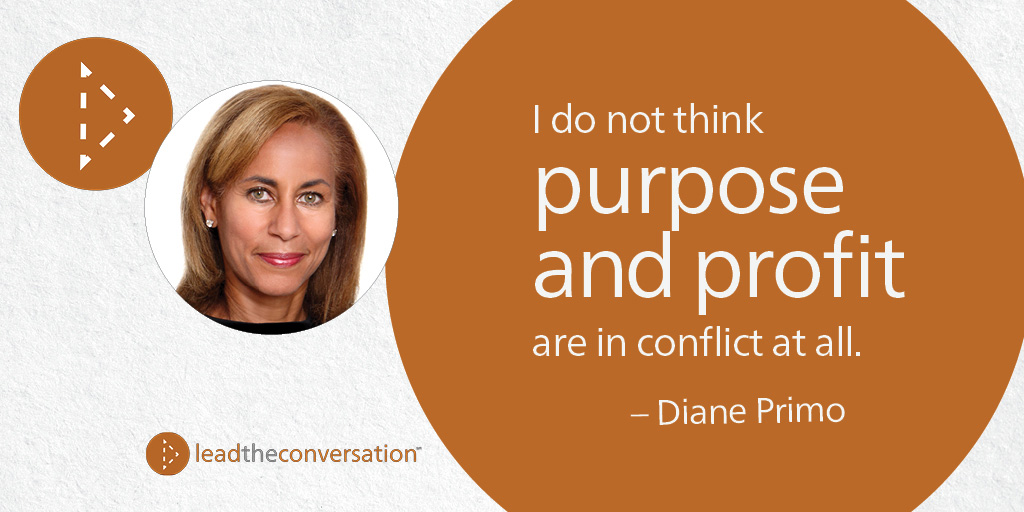 Diane:
Marty, I really agree with you. I think that brand is a significant part of the ongoing economic stream for a company. One-third of a company's intangible assets is related to brand, and some people actually say that it can be much more. I do not think purpose and profit are in conflict at all. Profits enable you to do what's right and what's good and you can never lose sight of that. But the brand, at the end of the day, is what's going to generate what people buy and why they buy it.
Bob:
First of all, in order to have that question answered or discuss that concept, you need to define what purpose means to a business. In some businesses, purpose is defined as that societal contribution, equal to profit as an objective of the organization. But that's not the case in all organizations. Purpose can be a much more individually-targeted objective. For example, it could be how do you treat the customer in every interaction you have. Depending on the definition of how the organization defines purpose, their purpose specifically, I think that then can guide the conversation around purpose versus profit. I don't personally think that they are in conflict.
There's a whole host of early stage companies and small businesses who put purpose first to the expense of profit. And those businesses are not able to do their purpose for very long. The profit isn't there to keep them in business.
Chuck:
Diane, your very recent research, The Purpose Report 2020, which came out right before COVID-19 hit, cites the Business Roundtable statement on purpose, which got lots of press last year. And in the report's preface you call out Jamie Diamond's quote, "Major employers are investing in their workers and community because they know it is the only way to be successful over the long term."
But the world has changed greatly since that statement was made and the Business Roundtable is already being taken to task, as in the New York Times article, Big Business Pledged Gender Capitalism. It's Not Happening in a Pandemic. You see signatories like Marriott that made a big deal about protecting their employees – but they fired over a million of them early on in the pandemic. So, the question is, how do you think corporate actions and brand communications during the COVID's era are likely to impact consumers' views of purpose?
Diane:
When I look at the Business Roundtable, I think about what purpose will mean post COVID. I don't really think it's changed that much, except that it's gone into hyper gear… What I mean by that is that consumers are looking, they are watching, they are judging for how companies behave in this moment. And it is a moment, in my mind, where brands can be made, where marketers can be made, where CEOs and their companies can be made.
Look at retail, hospitality, travel… all of those industries have taken big hits. But it's how they've handled the moment that matters. Did they handle it with compassion and empathy? Did they go out of their way to do what was right?
Paul:
We've talked a lot about profit so far. There's a sense that there's something inherently wrong with making a profit – and there's nothing wrong with making a profit. The question is how you make that profit and how you spend that profit. That's a key point.
When we talk about COVID and what that's done and this situation we're in, we're talking about purpose as well. The person that I always have referred to on this is John Elkington. He's written a lot about purpose and was involved in setting up B Corps, things like that. His idea was that a brand and a business need to work for the Triple Bottom Line of people, planet, profit, in that order. Interestingly, he recalled that idea a couple of years ago and said that our economic system doesn't allow for businesses to work in that way necessarily as well as it should. But I think this idea of business needing to work for people, for the planet and then also make a profit becomes even more essential in a time when people and the planet are really suffering.
Bob:
There's almost another P to add here and I think it's "priorities." For those organizations not significantly economically impacted by the virus, you would assume that if they stay true to their purpose that it is authentic, it is part of their DNA, it is how they operate. That objective will continue during this crisis and on into the other side of it. They will continue to live that mission. They will fulfill that purpose as they have assuming they have the means to do so.
For those businesses, however, who have been extremely economically impacted in a negative way, priorities may change for a period of time where they may not be able to execute on some aspects of that purpose as they have in recent past. But the assumption would be, again, if that is an authentic aspect of their business strategy, they will come back to executing that when they can. And in some cases, this may look like purpose gets elevated in the way that they execute it, and for others it may be at a lesser degree than they have in the past. But I think it's going to be based on business conditions and that's very situational business to business.
Marty:
I agree with that totally, Bob. Business ethics is something you have to be able to afford. If you can't afford it and you're just struggling for existence, you're going to be tempted to cut some corners to stay alive so that you can fulfill your purpose later. And I think we're going to see a lot of that.
Chuck:
So, you think we're going to see situational ethics in the near term?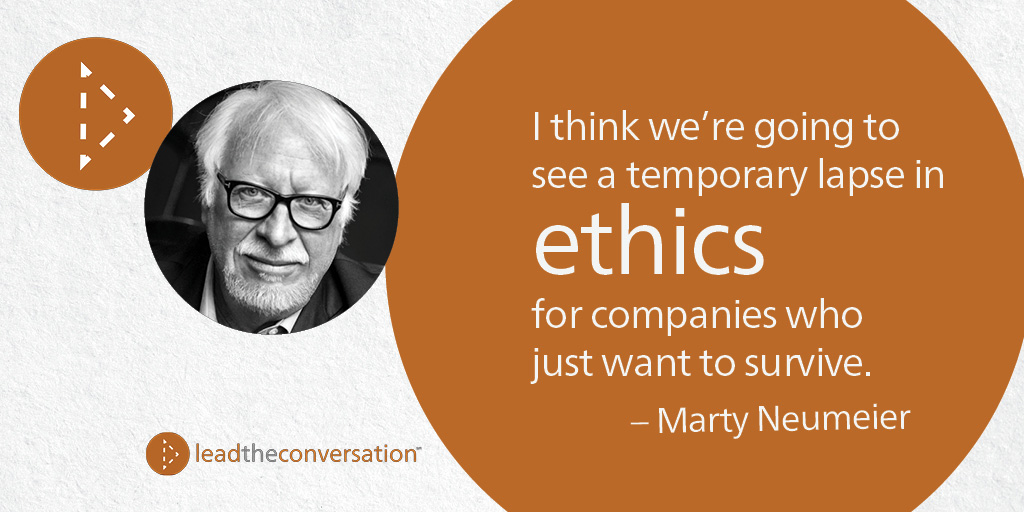 Marty:
I think we're going to see a temporary lapse in ethics for a lot of companies who just want to survive to get to the next stage.
Chuck:
But how is that going to impact their brand image and reputation?
Marty:
They're going to be in worse shape because people are going to be watching. So, we'll see how they do, but I wouldn't expect that the pandemic is going to make everybody kinder and gentler.
Chuck:
It sounds like you think it will separate some of the wheat from the chaff in terms of understanding who has a hardcore commitment to purpose.
Marty:
It's definitely going to shake the snow globe.
Diane:
People who do understand purpose know that it is inside out, it's vertical and horizontal within their organization. And ultimately, it's about them living their true values. People will be watching and saying, "Did you really live those values?" People can feel it and they understand it and they're sensitive to it. And they will activate against them in subtle ways and in obvious ways if they do not follow that path. I really agree.
Marty:
We all gave Google a wide latitude because of their slogan "Don't be evil," which helped for a few years until they realized they did have to make a profit and the only way to do it is to sell our information that they're basically harvesting without our knowledge. And I don't think we've really come to grips with understanding what they're doing yet. Not just them, but they're the biggest one.
Chuck:
I'd like to pursue a question with Paul concerning his dissertation, "Branding Post-Capitalism." What we have been talking about so far really is how branding functions and how it can be pursued with purpose in conjunction with profit in our current form of capitalism. In your dissertation, however, you entertain an alternative form. First, you define capitalism as a system where things happen to you – you consume Then you differentiate that from post-capitalism, which you define as an economy where you make things happen – you contribute. Do you think that this era, this pandemic and the shared experience of going through it, will finally usher in more of a contribution economy? And if so, how might that reshape our notions of a brand's purpose?
Paul:
Where do I start with this? Let's say, in a very industrial era model the role of people was to consume value – that's quite set. [But at the time I wrote this, some ten years ago,] the productive role of the consumer was changing, whether that was immaterial labor, whether that was knowledge…Just look at all the platforms, like Facebook, which wouldn't exist without the content of that people provide. It was a really interesting [time in terms of] the role of people.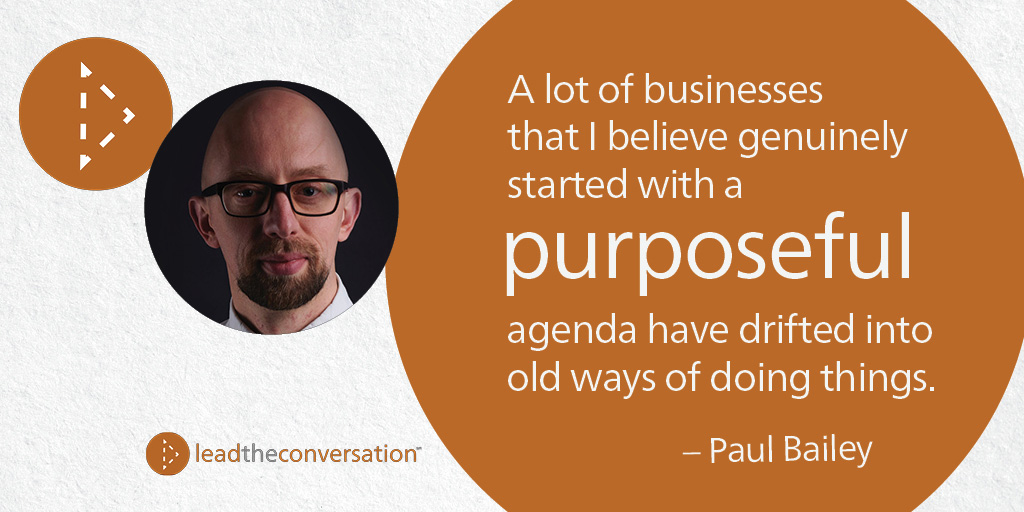 The unfortunate thing is that this was in the days when, for instance, Airbnb would genuinely come and share my house.  It feels like, over the last decade, a lot of these businesses that I believe were genuinely started with a very socially purposeful agenda have drifted into the old way of doing things.
Diane:
It's funny, but those of us who are older have seen a lot of shifts in business in terms of their focus. I remember, "It's shareholders! No, no, no. It's customers! No, no, no. It's employees!" We've been through the loops of what we're interested in.
I really see this is getting back to your idea of contribution, that what you're really seeing is a migration to common interests where the internal employee is being connected with the external customer, connecting the human piece. And you're seeing this merger of external and internal interest, and as they come together, there's the sense of commonality.
Chuck:
Before we wrap up, I want to jump over to Bob and discuss impacts in the B2B realm since that's your sandbox
The concern is, as we're talking here, purpose can be great, it can build long-term value, loyalty, etcetera, if you really commit to it. But there was a new study just earlier this year from the ANA and Carol Cone, The B2B Purpose Paradox, that points out a rift between stated and activated purpose. Some 86% of B2B organizations say they have a purpose beyond profit, but only 24% have embedded that purpose into their organization. I know you do a lot of activation work. Given the huge gulf in B2B between creating a purpose statement and actually living it out, what do B2B companies need to do to make purpose more than a paper-thin promise?
Bob:
I think I would start with embedding purpose into your organization. Ensuring that the actions and behaviors of that organization are aligned with said purpose. Making the changes necessary to actualize and implement against that purpose. That requires change, and change is hard for business-to-business organizations.
Our "sandbox," as you put it, is more specifically mid-size, mid-market B2B companies, where the level of change required is more daunting. Because in many cases they have to weigh a more rational, almost ROI-type of equation to answer, "What do I do to activate my purpose,  versus how does that benefit my business?"
And you see that lagging, compared to many B2C businesses and sectors. In the B2C landscape,  consumers purchase many things based on the emotive aspect. If I'm buying Patagonia, that gives me a feel good. It also sends a message. It indicates that I am someone who is buying from and supporting an organization that has a value system aligned with mine. That type of buying behavior is far less present in the B2B landscape, and especially in the types of buying environments where many mid-sized B2B companies play. It's a much more rational purchase criterion.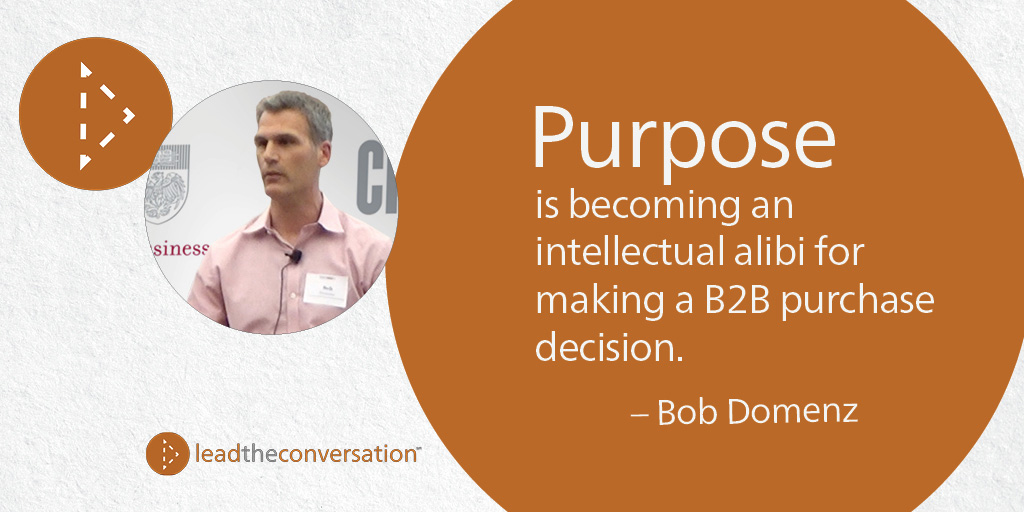 But what you do see is purpose becoming an "intellectual alibi" for making a B2B purchase decision. If you're down to a shortlist of two finalists, client A versus claim B in this bid, let's say, you can see that client or provider A may have a leg up because of what it is doing against its purpose that supports the industry or that supports a societal objective. That can be a competitive differentiator at the finish line as opposed to a primary reason for buying
But another big piece of this that has emerged recently – and it will be very interesting to see how this changes post–virus and in whatever becomes the new normal – is how purpose has become elevated in importance for hiring.  What you stand for as an organization, and how that manifests into tangible actions and behaviors of the company, makes a very significant contribution to attracting the right people and fighting for top talent.
Chuck:
Well, if you believe this most recent research, it would appear that while stating a purpose has risen in  importance, living by it hasn't. You talked before about needing to embed to really activate a B2B purpose. How do you make that come alive?
Bob:
The number one lever of success is leadership. If leadership is not truly believing in and making the purpose a priority for the organization, it doesn't have a chance.
One of our clients is in the public health sector is an example of really committing to purpose, from the top down. They are in the business of helping communities control mosquitoes and other flying insects that carry disease – controlling "things with wings that spread bad things." We helped  them articulate their purpose as making communities more livable, safe, and enjoyable. One way they demonstrated that purpose, rather than just declared it, was to commit a certain percentage of R&D budget to only new technologies and new chemistries which are environmentally friendly. It was a significant portion of their R&D budget, so that was at the time a great risk, pursuing unproven products and technologies. Another way was to establish a foundation and become very inclusive of their greater industry. They made it not a "me" thing but a "we" thing.
Chuck:
Have their employees really continued to embrace this?
Bob:
It's been very long lasting. They're rolling on almost a decade and each year it gains momentum. In its best case, and I don't think this is any different B2C or B2B, when an organization articulates its purpose and starts to make it demonstrable in the way that it operates, it's like self-selecting criteria for the employees and the culture. When employees align with the purpose, they pick up that ball and run with it. They perpetuate it, they enhance it.
To conclude
After this discussion, I'm not sure any of us can draw a conclusion as to how the pandemic will impact purpose ­– save to perhaps see it stress-tested, reinforced and strengthened in those organizations that truly commit to it. And as to the tension between pursuing purpose and profit – these leaders see no conflict, so long as the former is lived out, and the latter isn't all that is lived for.
________________________________________________
About the Author
Chuck Kent, the Chief Conversation Officer at Lead the Conversation,  uses a video-first content creation method to help busy executives more easily create authentic, compelling thought leadership content – and to lead industry conversations. He is a writer, brand strategist, content creator and expert interviewer. Chuck is also a contributor to CEO World, Sustainable Brands, Convince and Convert and Branding Magazine, for which he created the monthly Branding Roundtable.
Lead the Conversation is an executive content creation service that makes it easier for busy top management to develop authentic, compelling thought leadership content, such as videos, bylined articles and blog posts. We also create opportunities for conversation leadership, such as interview series and other forums.
Lead the Conversation provides a practical way to develop authentic thought leadership content for busy executives. We also help the C-Suite create and lead industry conversations, to which they can invite other leaders, turning prospects into relationships. © Creative on Call, Inc.
We help top executives create: Interview series Videos Bylined articles Blog posts All forms of content