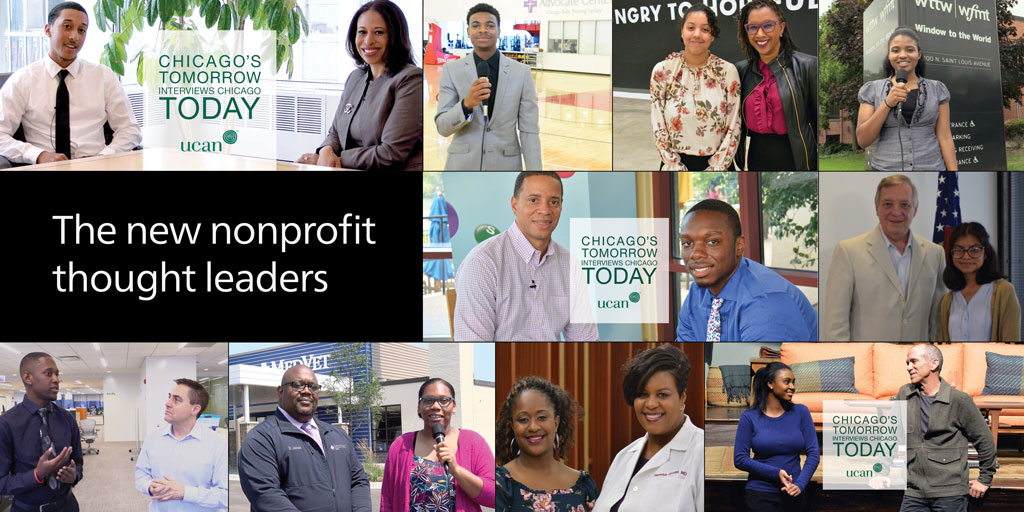 Is your nonprofit overlooking its best thought leaders?
Nonprofit storytelling is the no-brainer staple of nonprofit marketing; after all, great nonprofits spring out of a response to the human story.
Thought leadership marketing, however, is less common, at least for nonprofits themselves (note: I'm happy to be convincingly contradicted here, if anyone cares to share examples). Yes, there are a plethora of podcasts, blogs and books by and for nonprofit consultants and leaders, but few which leverage the future-forward thinking that underpins an organization's efforts.
CEOs, board members and volunteers are all possible sources of intellectual capital that you can convert into the currency of awareness and differentiation. But today's most powerful nonprofit thought leaders aren't just those who lead you – they can include those you serve.  Case in point: Chicago-based UCAN, the multi-faceted child and family services organization working to live out the vision that "Youth who have suffered trauma can become our future leaders."
UCAN is fairly expert at telling the often dramatic, sometimes heart-wrenching stories of those it serves. Through a new interview series – Chicago's Tomorrow Interviews Chicago Today – it is also becoming expert at letting the youth who rise through its programs speak for themselves, and in so doing provide self-evident proof of the impact UCAN has.
The youth who rise through its programs speak for themselves, and in so doing prove the impact UCAN has.
To demonstrate how UCAN youth are, indeed, prepared and eager to serve, these future leaders are paired with current leaders in the fields to which they aspire. To date they have interviewed heads of global brands, luminaries of the theater world and even a renowned U.S. Senator. Each interview covers why and how the current leaders pursued their careers, how a young person today might also pursue it, and, finally – fitting UCAN's future focus – why the field matters to tomorrow. Perhaps most importantly, the interviews demonstrate that the young people of UCAN belong in such conversations, and are stepping up to lead them. Consider just a few of the exchanges about the future, and you'll see how interesting these conversations can become.
Isabel Gaspar interviews U.S. Senator Richard Durbin
Gaspar: Thinking about the future, what would your advice be to people like me, still in school, who want to be a part of change, whether it be in politics or other careers?
Durbin:  Well, first finish school. I know that's on your mind and I'm sure you're going to do that, but your education's important. Not just because of what you learn, but because of what it means to your life. It isn't just that you've stored all this information in your head. It really molds you as a person. As you read, as you learn, you establish a set of values, and those values will guide you in life as a person, in a relationship with other people, in the work that you do with your life, whatever it may be.
I think you can be a champion for social justice and be a businessperson. You can be a lawyer, a doctor, a teacher, almost anything. Those who have no profession but raise a family are going to teach social justice in their family, to their children, for example.
So, each of us has an opportunity and a calling. There are so many places to turn to to help in the area of justice. We automatically think of judges and courts and law, and of course they're the most important. But there are other areas where you can fight for social justice in your neighborhood.
A family is invited to live in your neighborhood and runs into a negative reaction of hate from some of the people. Will you be the one to knock on the door with a plate of cookies and say, "Welcome to our neighborhood"? That new immigrant, that new refugee…will you be the one to say, "Thank you for coming to America?" That is an effort, small as it might be, that moves us towards social justice.
Ariyan Moore interviews John Starkey, Global Brand Lead for Dove/Galaxy at Mars
Moore:  Why do you feel that marketing is important not only to life in Chicago, but also to the future, to the younger generation of people?
Starkey:  There's a responsibility that comes with marketing and I'm proud to say that I've always worked for, and I currently work for, an organization that takes the responsibility of marketing to consumers, to children, very seriously – and doing it in a way that's ethical and doesn't try to exploit any communities. You can think about times when there was an ad trying to target an African American community, but they really didn't understand the African American community. We can bring that perspective, or we can learn that perspective and have a commitment to really doing our research and understanding what it takes to connect with consumers in an authentic way, regardless of if we are from that race or not.
To market effectively, you have to have an appreciation and a desire to really understand your consumers, what their needs are and how they live their lives. This is not only from an ethnic or a geographic standpoint, but also socioeconomically. And you need to do that in a way that is respectful and that allows the consumer to say, "They understand me, and this product actually fits my needs."
Ebonie Henderson interviews Henry Godinez, Resident Artistic Director at the Goodman Theatre
Henderson: Why do you think theater is important to the future of Chicago?
Godinez: Theater is important to the future of Chicago because this is such a diverse city, and it's only going to become more and more diverse. As the city and the world becomes more diverse, especially with immigrants, we need to understand each other – and the theater allows us to tell stories about our shared humanity. The more that we can celebrate those stories, the more hope there is that we will recognize the similarities among us as human beings.
That gives me hope that there will be peace, that there will be harmony, and that we can live together as people in a city, in a country, and hopefully as people in a world. So the theater is important to the future of this city and beyond because it informs us about "the other," the people that we consider the other. And in learning about the other, we actually learn about ourselves. To me, that's the future.
How can those you serve become your new thought leaders?
The magic of these interviews is that they aren't just static Q&A – they become compelling conversations, authentic human-to-human interaction. And rather than just a claim of your organizations impact, they are proof of it, right there, on video, in print, or even a podcast.
Take a fresh look at those you serve – like UCAN, you may discover your new thought leaders.
Suggested reading:
Trends in nonprofit thought leadership
________________________________________________
About the Author 
Chuck Kent, the Chief Conversation Officer at Lead the Conversation,  uses a video-first content creation method to help busy executives more easily create authentic, compelling thought leadership content – and to lead industry conversations. He is a writer, brand strategist, content creator and expert interviewer. Chuck is also a contributor to CEO World, Sustainable Brands, Convince and Convert and Branding Magazine, for which he created the monthly Branding Roundtable.
Lead the Conversation is an executive content creation service that makes it easier for busy top management to develop authentic, compelling thought leadership content, such as videos, bylined articles and blog posts. We also create opportunities for conversation leadership, such as interview series and other forums.
Lead the Conversation
 provides a practical way to develop authentic thought leadership content for busy executives. We also help the C-Suite create and lead industry conversations, to which they can invite other leaders, turning prospects into relationships.
© Creative on Call, Inc.
We help top executives create:
Interview series
Videos
Bylined articles
Blog posts
All forms of content